My mind is undergoing a mental technicolor raping at the moment. Watch Doodlebops, you'll get it. And it's always surprising what depths you'll sink to in the name of "children's entertainment." The show itself isn't so bad, I'll admit, especially compared to that bastard purple dinosaur and his crew of innocent miscreants that I'm sure just knocked over a 7-Eleven with their childish good looks...tell me someone else feels this way.
Updates - I got the internship, I start next week and am nervous as hell. I'll be in charge of remodeling the gallery. Eep - what the hell did my painting teacher tell this woman exactly?!!? I'm not an art student (yet, hopefully), and I don't have the first clue as to how to rearrange a ceramics gallery. The woman actually pointed around and said "I need this to look a lot better," and I'm thinking "Um, it looks pretty good in my uneducated opinion..." I'll also be doing a bit of research on local artists, which won't be too hard. At least it's only 10 hours a week, and I get unlimited studio time. S-W-E-E-T.
Yawn...entrelac stole has now become entrelac purse. I'm knitting up the handle/gusset, and I want to get it done today because I'm going to a party tonight that I want to show it off at.
Here are the promised pics of my critters!
Obi Wan, my cocker spaniel at a Cincinnati Reds game last year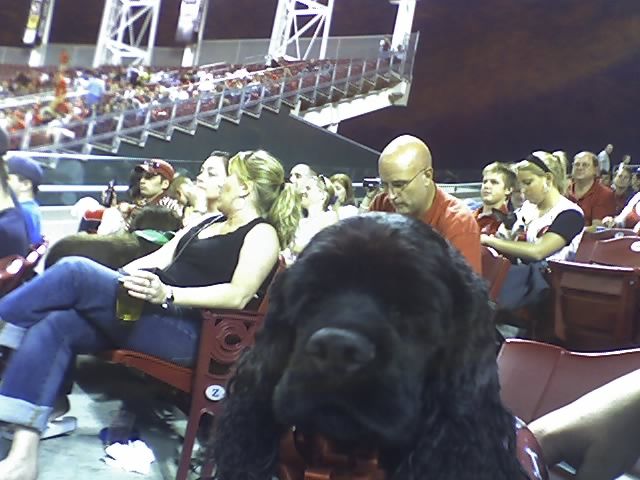 Zelda (beagle/border collie mix, 5 months), and Obi Wan...she's gonna be the size of a horse, I think...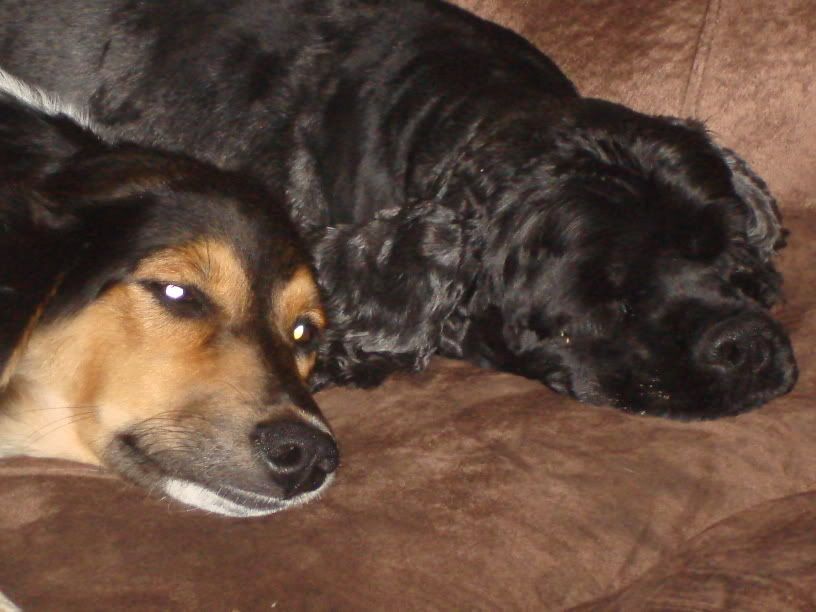 And my kitten, Princess...she's a little twat, but she's cute.